Please join us for part two of our three-part series on low latency
Webinar:

WebRTC: Is it right for me?
Date:
Thursday, December 13th, 2018
WebRTC's popularity and adoption has grown in 2018, but where does WebRTC fit exactly

into the world of live video streaming and is it right for your solution?
To find out, please join our upcoming webinar on Wowza Streaming Engine™ and WebRTC where you will learn:
Ideal uses cases to employ WebRTC

How WebRTC integrates with Wowza Streaming Engine and how WSE facilitates scaling to large audiences with this standard
Includes live Q&A with subject matter experts. All attendees will receive:
15% off Standard and Plus Live Event Plans
20% off Premier Plans – Monthly* OR Annual
15% off Silver and Gold Plans
20% off Platinum Monthly Plans*
Speakers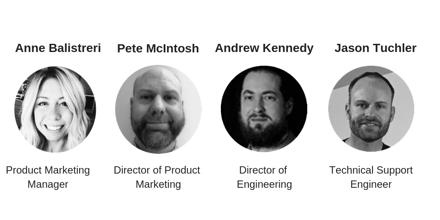 Don't miss out on the following webinars:

Thursday, January 10, 2019 | 10am PT Fast and Furious with SRT and CMAF - Discover why SRT is an ideal protocol for unpredictable networks, and learn how recent developments in the CMAF protocol can affect your low-latency workflows.